The Mad Beginning
Georges has a humble beginning at Pasir Ris Park. Founded in 1999, it started as a small sea sports centre with a beverage kiosk. It was started by an original group of friends known as the Georges brothers. It slowly evolved into a beach bar serving western grill.
In the year 2004, Georges expanded inland and nestled itself along East Coast Road. It retained its rustic and beach allure with a Balinese theme. More importantly, it kept its concept of good food, great music, and friendliness. It is a place to meet regulars and make new friends. It is quite true that no one is a stranger @ Georges, and if you are, this is where strangers become friends!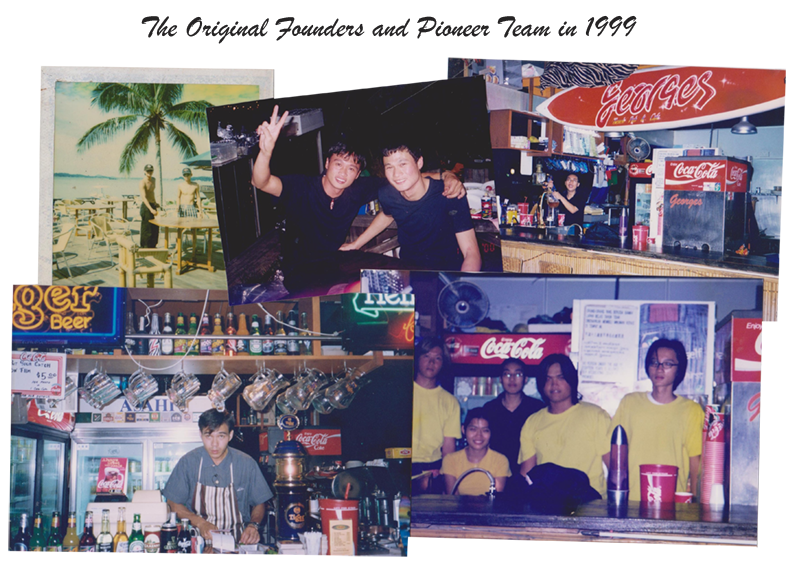 What & Who We Are?
Escape and get immersed in this Balinese concept bistro with beach appeal. A place where friendliness and the rustic ambience set the tone. The kitchen offers a decent variety of homemade snacks and western grill that will surely satisfy even the most discerning taste buds at MAD prices! Treats such as Georges Burger, Beer Battered Fish and Chips and Black Pepper Tenderloin Steak are de rigueur, not according to us, but from our dedicated fans and loyal customers. Our assurance is simple, "No good, don't pay!?
On weekends, the bistro is turned into a stadium where football games, F1, rugby matches are screened, along with MAD deals at the bar. It is also nice to know that the bar serves a good variety of international beer and the coldest draft beer at minus degree!
Apart from being dubbed the friendliest neighbourhood bar, georges is imbued with a mission to provide you with a home with good food, great music and MAD people, an ideal place for those who expect and deserve that little bit more…
Our Mission
Our mission is simple – BE HAPPY. @ georges, we aim to provide a happy place where good food, great music and MAD people meet.
Every day we aim to make our staff happy at work and every customers leave a little happier than they arrive. We believe a happy staff makes a happy customer, which creates a happy place. After all, happiness is contagious.